In 1804, Colonel Robert Patterson purchased uninhabited land along the Miami River south of the city of Dayton. Patterson built a homestead along Brown Street in Dayton, and his farm, mill and out buildings occupied Northern Oakwood near Rubicon Road and along Schantz Avenue.
In 1822, there were 10 taxpayers owning land in present day Oakwood. Settler William Kramer owned 60 acres on which he cultivated orchards and vineyards. He also grew expansive flower gardens for visitors to stroll and enjoy. His original property today straddles Kettering and Oakwood and contains the Dayton Country Club.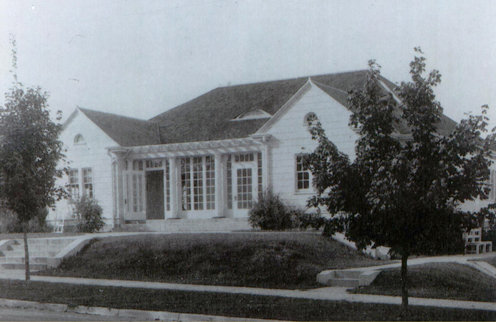 Large farms appeared on the east side of present-day Oakwood. The terrain was rocky, but relatively flat. The west side of Oakwood was unsuitable for farming, so land owners opened stone and gravel quarries. The Long-Romspert family owned a quarry behind their home (the present-day historical society). The quarry ran the length of what is today Coolidge Drive.
In the 1870s, there was a plat with a few constructed homes near the present day city building on Park Ave, but it didn't sell well and development was abandoned.
In the 1880s, families built summer and permanent homes on Oakwood Ave. Others built estates further out of Dayton in present-day Oakwood that were used for raising horses or to provide privacy for large wealthy families. John H. Patterson established his estate overlooking Dayton and his company (NCR) on the site of the present-day Lutheran Church of Our Savior at Thruston Blvd. and Woods Rd. Patterson was largely influential in the physical and governmental development of Oakwood. Patterson created Hills & Dales Park which had an entrance off Far Hills at Peach Orchard Rd. He established Sugar Camp, a NCR training camp, were classes started in 1893. He subsidized and published the first Oakwood newspaper, The Oakwood Village Record which ran monthly. He donated the land and partial funds for the East Oakwood Club building, called today the Oakwood Community Center.
As the turn of the century approached, developers purchased land and platted out suburbs for Dayton (Schantz Plat). Electric streetcars running from Main St. down Brown St. and up to Five Points allowed people to move out of the city but still benefit from the city's proximity for employment, shopping, and entertainment. Oakwood incorporated as a city in 1908 with 67 homes. In 1912, Orville Wright and his sister, Katherine, and father, Bishop Milton Wright, moved to a new home at the corner of Harman and Park Avenues. Known as Hawthorn Hill, the home had served as a NCR guesthouse for many decades, but in 2006 was donated back to the Wright family for the preservation of the Wright Brothers legacy.
Oakwood was a growing city when the 1913 Dayton Flood destroyed much of downtown Dayton, Ohio. Demand for Oakwood homes increased as many city residents sought new homes and were comforted by the high elevation home developers touted in their advertisements.
Oakwood's population boomed during the 1920s and 1930s. Improved transportation encouraged more families to move out of the city. The streetcar extended to Monterey Road, and automobiles were becoming more popular, available, and affordable. Home developers had access to cheaper materials and could construct quality modern homes at a faster and less expensive rate. Most homes in Oakwood were built in this time period.
Oakwood saw very little growth during the depression and lead up to World War II. Residents converted their homes into room rentals, restaurants, and grocery stores to sustain their families through the hardest years. Large estate homes became convents and guesthouses for the brothers working at the University of Dayton. Some residents lost their homes to bank foreclosures.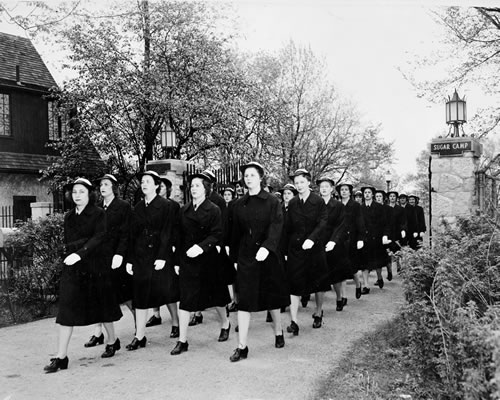 World War II created a manufacturing and engineering boom in Dayton and at Wright-Patterson Air Force Base. The increase in jobs and wages spurred new homes and growth in Oakwood. In the 1950s, the city instituted a joint police and fire department which is an extremely rare organizational structure. During the war, WAVES slept at the Sugar Camp training facility and worked at NCR on code breaking projects.
By the end of the 1950s, the City of Oakwood was essentially the size it is today. The cities of Moraine, Kettering, and Dayton had surrounded the City of Oakwood. In the 1960s and 1970s, recession impacted growth and development in the City of Dayton and the City of Oakwood. Larger estates and lots were subdivided and sold for new home construction. This is seen in the Schantz Historical District with homes from the 1910s and 1960s sitting next to each other.